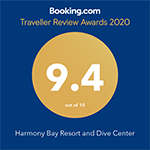 Thank you for your interest in our resort Harmony Bay.
If you would like to check availability, place a booking or have any questions please get in touch with us on Facebook,
by email or using the contact form below.
As we are in a remote location with limited internet coverage please allow some time for us to reply.
For last minute inquiries please contact us by e-mail or via WhatsApp.