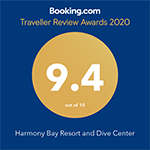 The food is really generous and the menu is so considerate- making sure we get a variety of different dishes (not just ikan bakar) and have plenty to eat!!

As we are in a secluded location away from restaurants and cafe's we provide all the meals for our guests. We understand the importance of providing variety of flavors and dishes and at the same time support local community. As such we source most of our ingredients locally directly from the local farmers and fishermen.
We vary fish, meat, eggs, tofu, tempe and top it off with lots of vegetables.
Breakfast is served in a relaxed manner. Lunch and dinner have set timings and are served for all resort guests together.
Coffee, tea and drinking water is complimentary. You can order cold drinks and beer at extra charge.