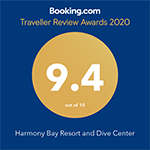 Lovely and lush surroundings. Spacious and well appointed bungalows. Crystal clear bay. And last but not least: bloody bagus brilliant dives with Ali! Well done Valentina, Rok and crew. Keep up the good work.

Togean islands lie in the heart of Coral triangle and we consider ourselves proud to be able to offer diving on some of the world class diving spots.
Being located on Kadidiri we have access to a wide variety of dive sites. You can choose between walls, slopes, coral gardens and muck dive sites.
Sites around Kadidiri offer abundance of hard and soft corals as well as incredible fish biodiversity.
We do not limit ourselves to diving only around Kadidiri and as such offer trips to other, more distant dive spots. Let us take you to explore the walls of Una Una, Bomba Atoll, Malenge reefs and a definite must WWII wreck 'Consolidated B-24 LIBERATOR'.


Why come diving with us
We believe that dive center should offer more than just diving. Our Divemasters share amongst them years of experience on the Togean reefs and will provide you with great trips and personalized services. We will take care of all equipment preparation and our crew will break down and wash everything upon return, leaving you to relax and share your diving adventures.
Small groups
Personal approach
All NEW Mares equipment
All certified dive guides with years of experience in the area
All dive staff trained in emergency procedures, oxygen and first aid on every trip
We take quality of breathing air seriously
We prepare all equipment in the morning and wash it at the end of diving. All you need to do is relax and dive
Scuba diving prices
| No. of dives | Price |
| --- | --- |
| 1 Fun dive | 500.000 IDR |
| 2 Morning dives | 950.000 IDR |
| If 2 dives in the morning, afternoon or night dive | 475.000 IDR each |
Rent
Price
Dive computer rental
150.000 IDR/day
Underwater camera rental
250.000 IDR/day
Torch for night dive
75.000 IDR
Due to long distance boat fuel surcharge applies for Atoll & Goa Goa, Malenge, Una-Una and B24 wreck.
*Prices including equipment rental. Own equipment 5% discount.
*Discounts apply only for direct web booking.
*Discount does not apply during high season (July, August, September).
*All prices expressed in Indonesian Rupiah and include government taxes.
*We do accept credit card payments (Visa, Mastercard), however due to logistical reasons we kindly ask if possible to pay by cash.
*Prices are subject to change without prior notice and guaranteed only for prebooked dives and courses.
*If you would like to do more than one course or specialty, please get in touch to get bundle discounts.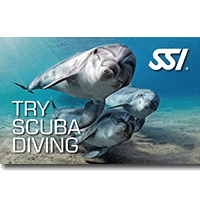 Try scuba
The SSI Try Scuba or Try Scuba Diving program is your introduction to the underwater world designed for those with NO EXPERIENCE.
Price: 950.000 Rp
Try scuba is a half-day class. It begins in the morning by meeting your instructor and fitting your equipment. Later you'll watch a short video that covers most important topics you need to understand in order to be able to dive safely. Next your instructor will show you how to assemble and use the equipment and explain the skills needed for a safe and fun experience. Now it's time to put the equipment on and take your first breaths underwater. After a little practice breathing underwater and when you become comfortable, your instructor will show you the basic skills which you will learn and practice. Don't worry its easy! Once you're done with the skills, your instructor will take you for your first dive. Don't be surprised if you get out of the water after your first dive and decide to do the full diving course. If you choose to continue, your Try scuba lessons will already count towards Open Water Diver course for which we will offer you a discount.
Price includes:
Equipement
Instructions
Digital material accessible on and offline
Digital Try scuba recognition card (don't forget it is not a certification, for that you need to take the full course)
Facts:
Minimum Age: 10
Certification Prerequisites: None
Academic Sessions: Try Scuba Pool/ Try Scuba Diving
Confined Water Sessions: 1
Open Water Dives: 1
Maximum Training Depth: 5 meters / 12 meters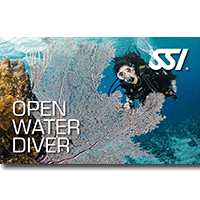 Open water diver
This program is the best way to begin your life-long adventure as a certified scuba diver. Togeans islands are a great place to get certified due to warm waters, mild currents and spectacular dive sites.
Price: 5.400.000 Rp.
It is entry-level certification and can serve as a stepping stone into the wonderful world of scuba diving.
We offer you 2 ways to complete the course and receive SSI Open Water certification. FREE Online program allows you to finish all academic sessions and knowledge reviews before your arrival, giving you more time to relax and enjoy your holidays. Classic classroom approach where you will read the book and watch the video once you arrive.
Open Water diver programs include only mandatory 4 Open water training dives. We add 1 extra training dive for FREE as we believe it will make you a better, more comfortable diver.
Included with all our Open Water courses:
Small groups
5 Open Water training dives
100 % PASS guaranteed! (if needed our instructors will take additional time to get you comfortable and prepare you to meet all the requirements)
Dive insurance for the duration of the course
FREE Online learning program or Open Water Diver Manual rental
All equipment rental
Instructors with years of scuba diving experience
SSI certification fees
Printed and Digital certification card for life
Use of Dive computers for the duration of the course
*Please note that you will have to read corresponding chapters before academic sessions.
*Both courses are all-inclusive SSI experience and whichever course you choose, there are no hidden charges.
*we provide mask, fins and snorkel however we highly recommend you bring your own to ensure the best possible fit
*if you wear prescription glasses or lenses, contact us and we'll advise you on the subject
OPTION 1: FREE Online program
Get in touch and we will register you to give you access to FREE Online learning. This way you can complete your class in 3 days.
DAY 1, MORNING: Review of Academic sessions and Final exam
DAY 1, AFTERNOON: Confined water sessions 1, 2 and 3
DAY 2, MORNING: Open water dives 1 and 2
DAY 2, AFTERNOON: Confined water sessions 4, 5 and 6
DAY 3, MORNING: Open water dives 3 and 4
DAY 3, AFTERNOON: Open water dive 5 & Certification
OPTION 2: Classic classroom approach
With this approach, you will have several academic & confined water sessions and Open water training dives spanning 4 days.
DAY 1, MORNING: Academic sessions 1 and 2
DAY 1, AFTERNOON: Confined water sessions 1, 2 and 3
DAY 2, MORNING: Academic sessions 3 and 4
DAY 2, AFTERNOON: Confined water sessions 4, 5 and 6
DAY 3, MORNING: Open water dives 1 and 2
DAY 3, AFTERNOON: Academic sessions 5, 6 & Final exam
DAY 4, MORNING: Open water dives 3 and 4
DAY 4, AFTERNOON: Open water dive 5 & Certification
*Written above serves as orientation only and can be tailored to fit your schedule.
Facts:
Minimum Age: 10
Certification Prerequisites: None
Academic Sessions: Online Program or Classroom sessions
Pool/Confined Water Sessions: 6
Open Water Dives: 5
Maximum Training Depth: 18 meters (age 15+)
Duration: 3 – 4 days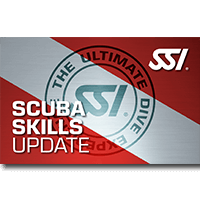 SCUBA SKILLS UPDATE
We offer Scuba Skills Update courses to diver that have been away from diving for a while.
A Scuba Skills Update provides you with the opportunity to review and practice necessary scuba skills that you learned in your original Open Water Diver program.
Price: 750.000 Rp.
Dive professional training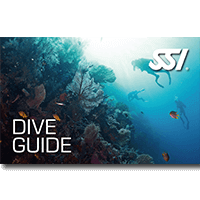 Dive guide
This program gives you the skills and experience required to safely lead groups of certified divers, and is the first step towards an exciting career as an SSI Dive Professional without requiring you to complete an instructor program.
Price on request. Please contact us to get a quote.
Facts:
Minimum Age: 15/18 if active status
Certification Prerequisites: Advanced Adventurer
Prerequisites: Advanced Adventurer, Diver Stress & Rescue certification, 40 logged Dives, certification or equivalent experience: Navigation, Night & Limited Visibility, Deep Diving
Academic Sessions: Varies
Pool/Confined Water: Varies
Open Water Dives: 10 or at least 50 total
Maximum Training: 40 meters/130 feet
Suggested Duration: 35-45 hours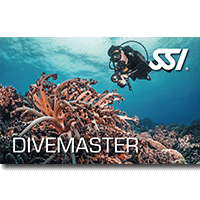 Dive master
Add Science of diving specialty to your Dive guide rating and get recognised as Dive Master. Your last step before taking Instructor training course.
Price on request. Please contact us to get a quote.